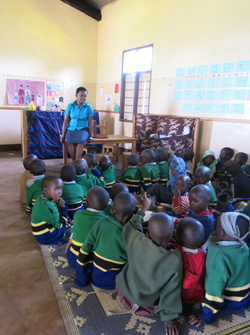 Many Maasai children experience extreme stress during their first few years of school, because every lesson is taught in the national language, Kiswahili, which they have never been exposed to. On top of this, it is common for children to walk more than 10 km to school, frequently missing meals and becoming at high risk of suffering from malnutrition.
As a consequence, children become hungry, demoralised and run away from school, or stop trying to learn. There are of course exceptions who struggle through – however even these children would do better if they had been exposed to the national language before starting school.
Kitenden Preschool is helping local Maasai children buck the trend. We provide over 50 preschoolers in Kitenden village which much needed early-childhood education, lessons in Kiswahili language, and two daily meals to help boost their chances of completing school and getting a job in the future. In a community where many families experience poverty, this is an investment in the future.
We have been able to achieve this through our partnership with the Wallis-Hinde family and the Rotary Club of Albury-Hume, who provided funding for renovating a rundown building and for the first few years of the preschool's operations.
Help us continue this great project! For less than $1 per day, you can sponsor a preschool placement and lift a child and family out of poverty.